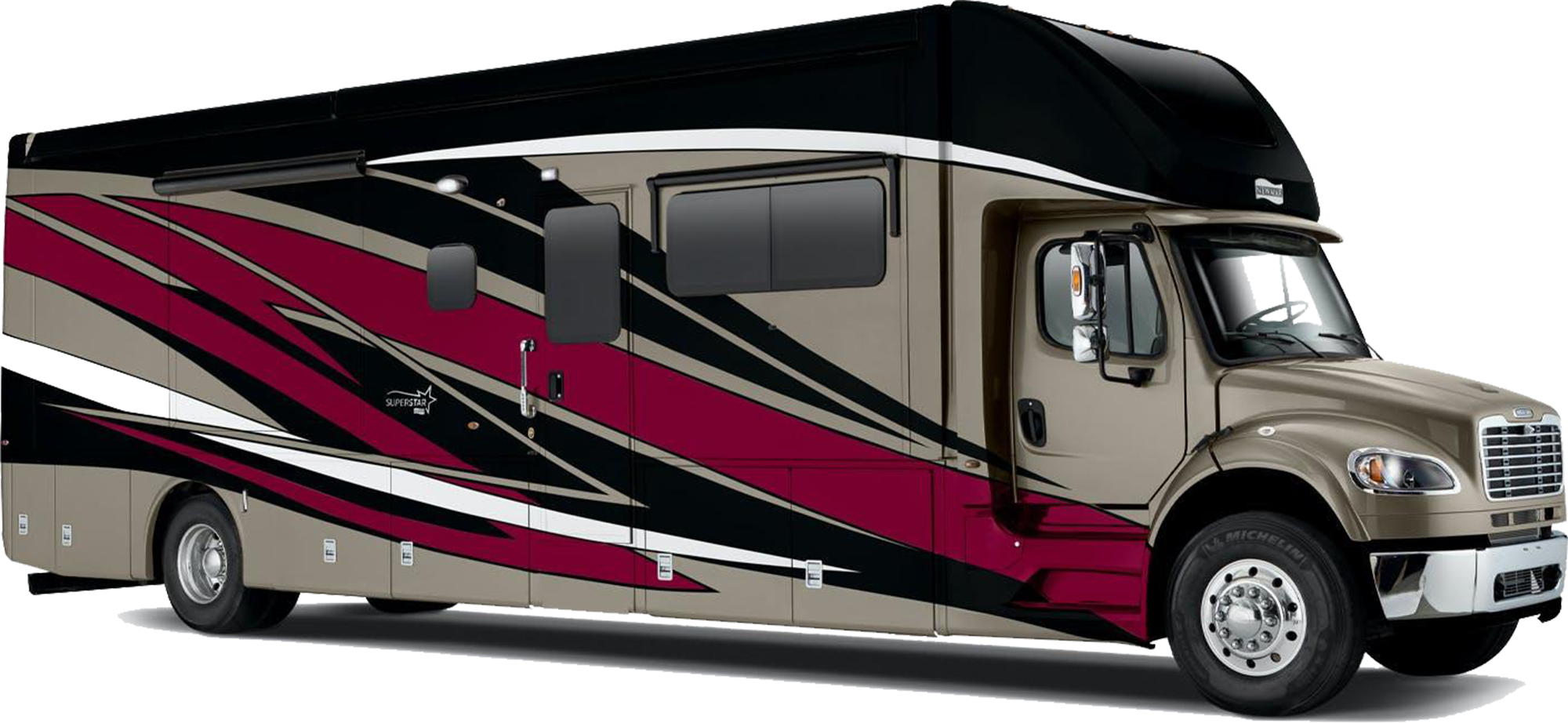 An immediate favorite when introduced last year, the 2021 Super Star gets even better. The full air-ride cab is a segment-first innovation that means an incredibly smooth ride, and 40' models have an increased wheelbase for even greater ride quality. A large sky window above the cockpit lets natural light come streaming in, and a full-wall slide out and exclusive step-free aisleway mean more space than you could imagine in a Class C. The Super Star also features cruise control, an energy management system, and remote-controlled exterior mirrors with defrost.
2024 Standard Features and Options
Inside the Super Star galley, you'll find appointments perfect for any home chef. A Norcold® refrigerator with brushed aluminum door insert panels, a Suburban Elite Series 3 gas cooktop with a cover for additional counter space, and a stainless steel convection microwave all come standard. If you choose, you can upgrade your appliances, like an electric cooktop, four-door Norcold® fridge, and a dishwasher. In the master suite, you'll find a king-size plush pillow top mattress that you can upgrade to a Sleep Number® adjustable mattress. For charging your field tools and gadgets, there are USB chargers on each nightstand. And if TV is your way to unwind, you'll find a 43" Samsung® 4K LED TV and Blu-ray player at the ready across from the bed.
Standard Chassis Features
100 Gallon Fuel Capacity
20K Rear Hitch for Towing with 2" Reducer and Drawbar with 2" and 2-5/16" Ball
Aluminum Wheels
Cruise Control
Manual Tilt and Telescope Steering Wheel
Anti-lock Braking System
Chassis Battery Disconnect
Single Rear Axle
Standard M-2 106 Chassis Cummins® 350 L Engine 309" Wheelbase, 24000# Rear Axle
Standard M-2 106 Chassis Cummins® 350 L Engine 341" Wheelbase, 24000# Rear Axle
Standard Exterior Features
Exterior Full-paint Masterpiece™ Graphics with Clearcoat Finish
Diamond Shield Protection on Front Cap
Convex Exterior Mirrors with Defrost and Remote Control
Chrome Exterior Mirrors
Automatic Triple Entrance Step-Hydraulic
Assist Handle at Entrance Door
Mud Flaps
Rear Protective Tow Guard with Stainless Steel Newmar Letters
Undercoating
Hydraulic Leveling Jacks
Stainless Steel Exterior Trim Pieces on Rear Cap
Painted Power Baggage Door Locks, Keyless Entrance Door with Touch Pad and Doorbell
Power Lock Cockpit Doors
Hammock Backer
Gelcoated Fiberglass Exterior Sidewalls, Front and Rear Caps
Fiberglass Roof and Integrated Gutter Rail
Aluminum-frame Sidewalls and Roof Construction, 16″ on Center
5/8″ Foam Insulation Laminated in Sidewalls and Ceiling
Automatic Mechanical Lock Arms on Slideout Rooms-Scissor Style
Egress Door with Ladder System*
Polar Pak R19 Batten Insulation in Roof
Rack and Pinion Flat Floor Slide
Standard Interior Features
Padded Vinyl Ceiling with Designer Feature Panels
Tile Floor in Kitchen, Bathroom and Living Areas
Carpeting on Slideout Floors
MCD Window Shades
Hardwood Slideout Fascia
Decorative Wall Art
Inlaid Three-panel Design Interior Passage Doors
Interior Assist Handle at Main Entry Door
Power Stepwell Cover
Quilted Bedspread with Accent Pillows
Removable Transport Pads for Under Slideout Rollers
Wastebasket in Kitchen Base Under Sink
Cabinets & Furniture
Bermuda Glazed Maple Hardwood Face Frame Cabinets with Mitered Raised Panel Designer Doors-Matte Finish
Air-ride Driver/Passenger Seats with Pneumatic Lumbar
Concealed Hinges on Cabinet Doors
Polished Solid Surface Countertop in Kitchen with Undermounted Stainless Steel Sink and Sink Covers
Polished Solid Surface Countertop in Bathroom and Bedroom
Lifts on Bed Top
Push-to-relese Drawer Slides in Pantry
Pull-out Pantry Shelves with Travel Latch*
Ultrafabric Sofa
Plush Pillow Top Mattress
Extended Rotation Concealed Hinge for Washer/Dryer Cabinet Door
Two Ottomans*
Mesh Cell Phone Holder at Each Bunk Bed*
Molded Silverware Divider Tray
Soft-close Cabinet Drawers
Villa Comfort Fit Convertible Booth Dinette
Appliances
Convection Stainless Steel Microwave with Three-burner Recessed Gas Cooktop
Air Horns
Norcold® 10 Cf. Refrigerator with Brushed Aluminum Door Insert Panels
10 gal. Gas/Electric Water Heater with Direct-spark Ignition
Prep for Two-piece Washer/Dryer
Flush Gas Cooktop Cover of Matching Countertop Material
Entertainment
Samsung® LED 4K TV and DVD Player in Living and Bedroom Areas* (TV Sizes Vary Per Floor Plan)
Samsung® 50" LED 4K TV on Televator in Living Area*
Xite Dash Radio 9" Monitor with Rand McNally Navigation
Bose® Solo 5 Soundbar Sound System
Two Sony® Blu-ray Disc Players
Side-view Cameras Displayed onto Radio Monitor Screen
Winegard Digital Crank-up TV Antenna
Satellite Dish Prep on Roof
Two Bedroom Radio Speakers
TV Jack and 110 Volt Recept in Door Side Exterior Storage Compartment
10 Bc Fire Extinguisher, Smoke Detectors, Propane and Carbon Monoxide Detector
CAT 6 TV Cables
CB Prep with Antenna
Harman/JBL 180 Watt Sound System and Subwoofer
Standard Water System Features
Demand Water System
Sewage Holding-tank Rinse
Water Heater Bypass System
Dometic® 321 China Bowl Stool or Macerator Stool*
Systems Monitor Panel
Sentrel Acrylic Shower Walls with Glass Door
Water Filter for Entire Unit
Exterior Shower
Auto Fill in Water Works Compartment
Power Water Hose Reel
Aqua Miser Shower System
12 Volt Dump Valves
150 Gallon Fresh Water Tank
Standard Mechanical Features
Frameless Double-pane Tinted Safety Glass Windows
Fan-Tastic® Vent with Rain Sensor in Kitchen and Bathroom
Skylight Above Shower
Girard® G2000 Integrated Side Awning
Carefree Slideout Toppers
Driver/Passenger Power Window
Sky Window in Cockpit with Power Shade
Air Conditioning & Heating Features
Two 15M Penguin™ Heat Pump Air Conditioners
Propane Gas Furnace with Ducted Heat
Dash Heater and Air Conditioner
Roof Air Conditioning Drainage System
Wall-mounted Sensors for Heating and Air Conditioning
Standard Electrical Features
8.0 kW Cummins Onan® Diesel Quiet Series Generator
50 Amp Electrical Service with Flexible Cord with Automatic Transfer Switch
Four 6-Volt House Batteries
Battery Disconnect Switch for House Battery
10 Watt Solar Panel to Charge Chassis Battery
2000 Watt Modified Sine Inverter*
2000 Watt Xantrex Tru Sine Inverter*
12 Volt Auxiliary Receptacle on Dashboard
Emergency Engine Start Switch
Engine Block Heater
Exterior Security Light, One Installed on Doorside
LED Lights Recessed in Ceiling and Underneath Overhead Cabinets
Manually Operated Hold-to-run Slideout Switch
Cable TV Connection
Interior Courtesy Lights
Lights in Exterior Storage Compartments
USB Charger at Dinette and Bedroom Nightstand
Spare Fuses in Chassis and House Fuse Panels
Automatic Generator Start on Low Battery or Temperature Setting
Energy Management System
Multiplex Lighting Control System
Dimmable/Adjustable Reading Lights at Head of Bed
110 Volt Recept in Bed Overhead with Two Pass-through Ports
110V/USB Outlet at Head of Each Bunk Area*
Power Rewind Reel with 50' Cord
Lights in Wardrobes
Available Floorplans
Click tabs to open floorplans
3727

4059

4061

4065

This Floor plan may show optional features that are not on every unit.
Click on one of the thumbnails below to view photos of previously sold units
Sorry, no videos at this time
Super Star Specifcations

MODEL
3727
4059
4061
4065
OVERALL WIDTH
101.5″
101.5″
101.5″
101.5″
OVERALL
HEIGHT (to top of AC)
13′
13′
13′
13′
OVERALL LENGTH
37′ 11″
40′ 11″
40′ 11″
40′ 11″
INTERIOR HEIGHT
(Std)
83″
83″
83″
83″
FUEL CAPACITY (gal)
100
100
100
100
FRESH WATER (gal)
150
150
150
150
BLACK (gal)
40
40
40
40
GRAY (gal)
60
60
60
60
Due to continued improvement, changes in suppliers and design; features, options, appliances, equipment, colors, material specifications, prices, and model availability are subject to change without notice.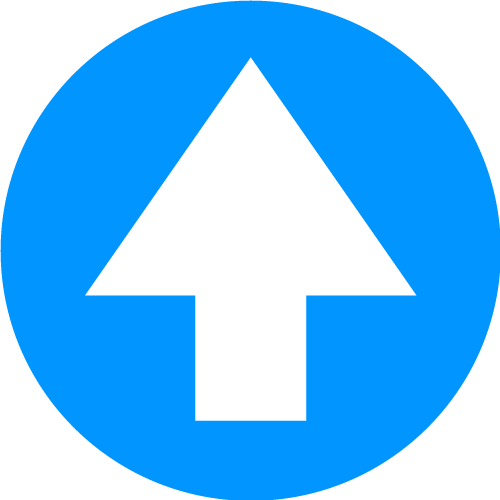 Scroll Down to See More Content