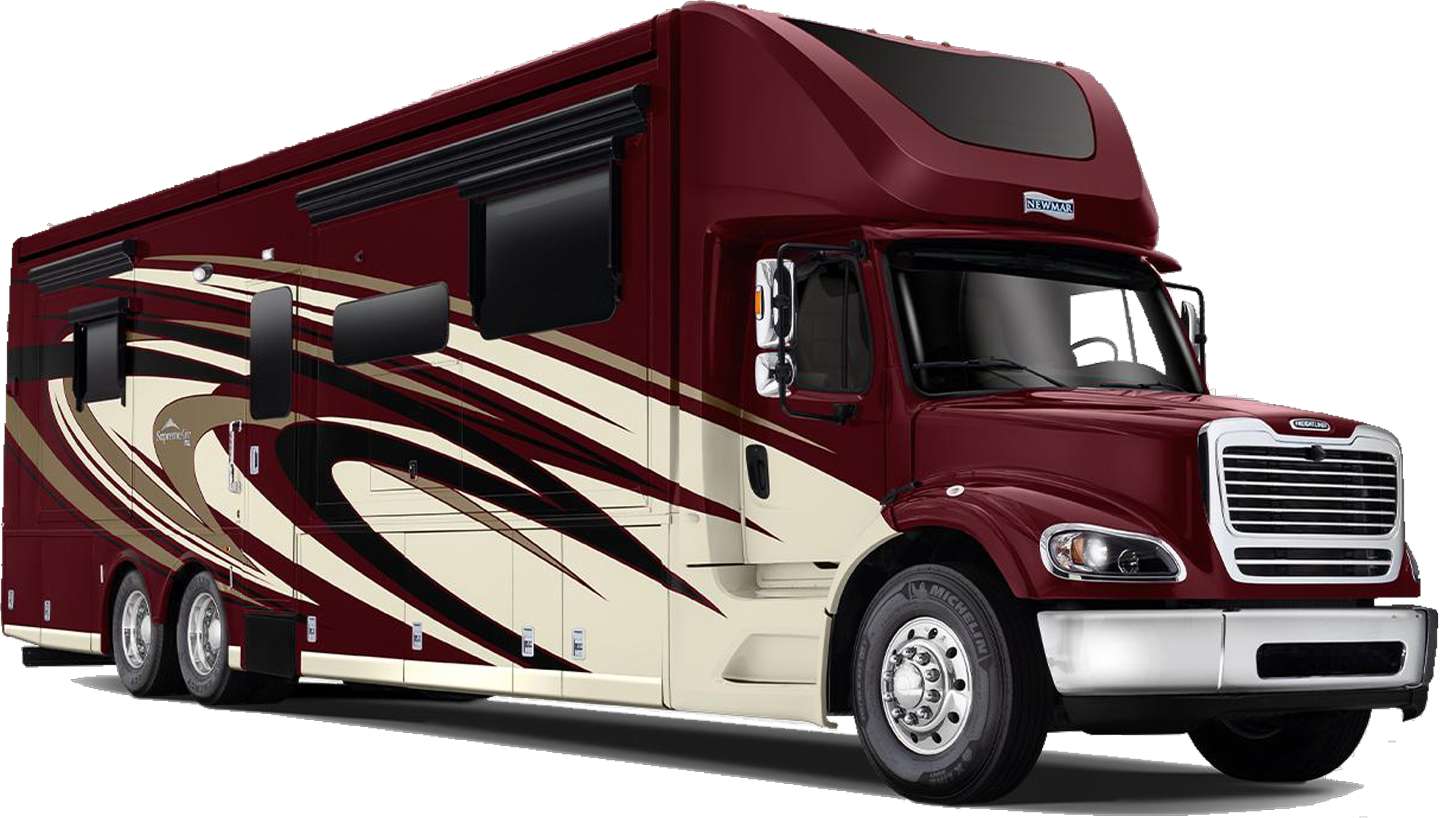 As an instant classic in the Super C segment, the 2021 Supreme Aire is even better suited to your travels—whether that's a trip to the ranch or to a show near a city. It's built on a Freightliner® M-2 112 chassis with a hefty 505 horsepower Detriot diesel engine, which also gives you a whopping 1,850 lb./ft. of torque–perfect for towing a trailer or spare vehicle. In the cockpit, we focused on comfort and convenience for your drive. Both air-ride captain's chairs offer pneumatic lumbar support. A custom-tuned JBL audio system delivers crystal clear sound for music and podcasts. You'll know exactly where you're going thanks to a standard Rand McNally navigation system displayed on a monitor that's larger for 2021. To give you a clear view into your surroundings, you'll find a tri-view rearview camera system. And to keep you connected, you'll find a standard in-coach Wi-Fi solution.
2024 Standard Features and Options
The kitchen in the Supreme Aire makes cooking a dream. Brimming with storage space in beautiful hardwood cabinetry, it's easy to bring along your most necessary cooking tools. These cabinets also feature self-closing drawers and doors with soft-close hinges. The master suite is built around a king-size bed, adorned with either a plush pillow top mattress or the optional Sleep Number® mattress. Opposite the foot of the bed are a Samsung® LED TV and Blu-ray player. Your floor plan may include a large dresser with several storage drawers with a wardrobe with sliding doors, or two hanging wardrobes and dresser with storage space for clothes, bedding, and other gear. Plus, an optional Splendide® stacked washer and dryer are available to make laundry day easier.
Standard Chassis Features
100 Gallon Fuel Capacity
30K Rear Hitch for Towing-Includes Draw Bar with 2-5/16" Ball
Aluminum Wheels
Anti-Lock Braking System
Chassis Battery Disconnect
Electronic Stability Control
Cruise Control
OnGuard™ Collision Mitigation Adaptive Cruise System
Standard M-2 112 Chassis Detroit DD13-505 Engine 311" Wheelbase
Standard M-2 112 Chassis Detroit DD13-505 Engine 335" Wheelbase
Tandem Rear Drive Axles
Tire Pressure Monitoring System
Standard Exterior Features
Full-Paint Masterpiece™ Finish with Cut and Buff and Beta Fusion Protection on Front Cap
Chrome Power Baggage Door Locks, Keyless Entry Door with Touch Pad and Doorbell
Convex Exterior Mirrors with Defrost and Remote Control
Automatic Triple Entrance Door Step-Hydraulic
Assist Handle at Entrance Door
Mud Flaps
Rear Protective Tow Guard with Stainless Steel Newmar Name Cutout
Undercoating
Hydraulic Leveling Jacks
Stainless Steel Exterior Trim Pieces and Entrance Door Kick Panel
Hammock Backer
Storage Bins in Pegboard Compartment
Power Lock Cockpit Doors
Rear Cap Storage
Construction Features
Fiberglass Roof and Integrated Gutter Rail
Gelcoated Fiberglass Exterior Sidewalls, Front and Rear Caps
Aluminum-Frame Sidewalls and Roof Construction, 16″ on Center
5/8″ Foam Insulation Laminated in Sidewalls and Ceiling
Polar Pak R19 Batten Insulation on Roof
Automatic Mechanical Lock Arms on Non Hydraulic Slideout Rooms-Paddle Style
Egress Door with Ladder System*
HWH Flat Floor Slide
Standard Interior Features
Tile Floor in Kitchen, Bathroom, Bedroom and Living Areas
Auto Motion Power Shades and Lambrequins
Interior Assist Handle at Main Entry Door
Quilted Bedspread with Accent Pillows
Safe Located in Bedroom Wardrobe
Wastebasket in Kitchen Base Under Sink
Shoe Storage Shelves Recessed in Rear Cap of Wardrobe*
Cathedral Ceiling in Rear*
Flush Handles on Swinging Bath Doors
Hardwood Raised Panel Interior Passage Doors
Padded Vinyl Ceiling with Designer Feature Panels
Power Stepwell Cover
Cabinets & Furniture
Bermuda Glazed Maple Hardwood Cabinets with Raised Panel Doors-Matte Finish
Air Ride Driver/Passenger Seats with Pneumatic Lumbar
Concealed Hinges on Cabinet Doors
Super Polished Solid Surface Countertop in Kitchen with Undermounted Stainless Steel Sink and Sink Covers
Super Polished Solid Surface Countertop in Bathroom and Bedroom
Lifts on Bed Top
Pull-Out Pantry Shelves with Travel Latch*
Soft-Close Side Hinge Cabinet Doors
Drawers with Dovetail Sides with Self-Closing Full-Extension Ball Bearing Guides
Villa Furniture
Plush Pillow Top Mattress
Cedar Paneling in Bedroom Wardrobe
Extended Rotation Concealed Hinge for Washer/Dryer Cabinet Door
Chaise Lounge-Off Door Side, Dormi Sofa-Door Side*
Mesh Cell Phone Holder at Each Bunk Bed*
Molded Silverware Divider Tray
Appliances
Stainless Steel 30" Convection Microwave with Recessed Two-Burner Induction Cooktop
Air Horns
Whirlpool® 19.7 Refrigerator
Splendide® Two-Piece Stacked Washer/Dryer
All Electric Flush Mount Induction Cooktop and Cover of Matching Countertop Material
Central Vacuum with Tool Kit
Entertainment
Samsung® LED TV and Sony® Blu-ray Disc Player in Living and Bedroom Areas* (TV Sizes Vary Per Floor Plan)
Samsung® 50" 4K LED TV on Televator in Living Area*
Bose® 700 SoundTouch SoundBar
Xite Dash Radio, 9" Single Monitor with Rand McNally Navigation
Winegard Rayzar Automatic Digital TV Antenna
Satellite Dish Prep on Roof
Two Bedroom Radio Speakers
TV Jack and 110 Volt Recept in Door Side Exterior Storage Compartment
Cat 6 TV Cables
CB Prep with Antenna
Infrared Repeater System to Operate Audio/Visual Components
WiFi Ranger Teton / Poplar Combo
10 Bc Fire Extinguisher, Smoke, Propane and Carbon Monoxide Detectors
Bose® 500 Subwoofer
Remote Navigation Programming Via SD Card*
Xite Triview Rearview Camera
Lighted Newmar Badge in Front Cap
HD 360 Camera System
Standard Water System Features
Demand Water System
Sewage Holding Tank Rinse
Dometic® 321 China Bowl Stool or Macerator Stool*
Aqua Miser® Shower System
Tiled Shower Walls with Glass Door
Fold-Down Shower Seat
Water Filter for Entire Unit
Exterior Shower
Auto Fill for Fresh Water Tank
Power Water Hose Reel
12 Volt Dump Valves
150 Gallon Fresh Water Tank
Standard Mechanical Features
Windows, Awnings, & Vents
Frameless Double-Pane Tinted Safety Glass Windows
Fan-Tastic® Vent with Rain Sensor in Kitchen, Bathroom and Enclosed Stool Room
Hardwood Louvered Cover on Fan-Tastic® Vent in Kitchen
Sky Window in Cockpit with Power Shade
Skylight Above Shower*
Girard® Package-Two Nova Side Awnings, Slideout Covers and Power Window Awnings
Driver Side Power Window
Air Conditioning & Heating
Two 15M Penguin™ Heat Pump Air Conditioners with Remote Control Thermostat on 40'
Three 15M Penguin™ Heat Pump Air Conditioners with Remote Control Thermostat on 45'
Hydronic Zone Diesel Heat with Continuous Hot Water
Dash Heater and Air Conditioner
Wall-Mounted Sensors for Heating and Air Conditioning
Roof Air Conditioning Drainage System
Electric Radiant Heat Installed Below Main Floor Tile
Standard Electrical Features
12.5 kW Cummins Onan® Diesel Generator
50 Amp Electrical Service with Flexible Cord with Automatic Transfer Switch
Eight 6-Volt AGM House Batteries
Battery Disconnect Switch for House Battery
10 Watt Solar Panel to Charge Chassis Battery
3000 Watt True Sine Inverter
12 Volt Auxiliary Receptacle on Dashboard
Emergency Engine Start Switch
Integrated Block Heater
Energy Management System
Exterior Security Lights
Mid-Ship Side Turn Signals
LED Lights Recessed in Ceiling and Underneath Overhead Cabinets
Accent Lights in Feature Ceiling, Slideout Fascia Trim and Lambrequins
LED Lighting in Pull-Out Pantry, Kitchen and Bathroom Base Cabinets
LED Lights in Exterior Storage Compartments on Automatic Switches
LED Lights Installed Under Door Side Slideouts
Lights in Wardrobes
Manually Operated Hold-To-Run Slideout Switch
Automatic Generator Start on Low Battery or Temperature Setting
Cable TV Connection
Interior Courtesy Lights
USB Charger at Dinette and Bedroom Nightstand
USB Outlet at Dash for Driver Use
Power Rewind Wheel with 50' Cord
Recessed Docking Lights
KIB Touch Screen Interior Light and Shade Controls
Secondary Multiple Touch Screen in Bedroom
SilverLeaf Multiplex Electrical Wiring System
Solar Prep with Six Gauge Wire from the Roof to House Battery Compartment
Spare Fuses in Chassis and House Fuse Panels
110 Volt Recept in Bed Overhead with Two Pass-Through Ports
110 Volt/USB Outlet at Head of Each Bunk*
Transfer Switch with Surge Protector
Reading Lights at Head of Bed-Dimmable with Adjustable Aim
Multiplex Lighting Control System with LCD Display Touchscreen
Available Floorplans
Click tabs to open floorplans
4051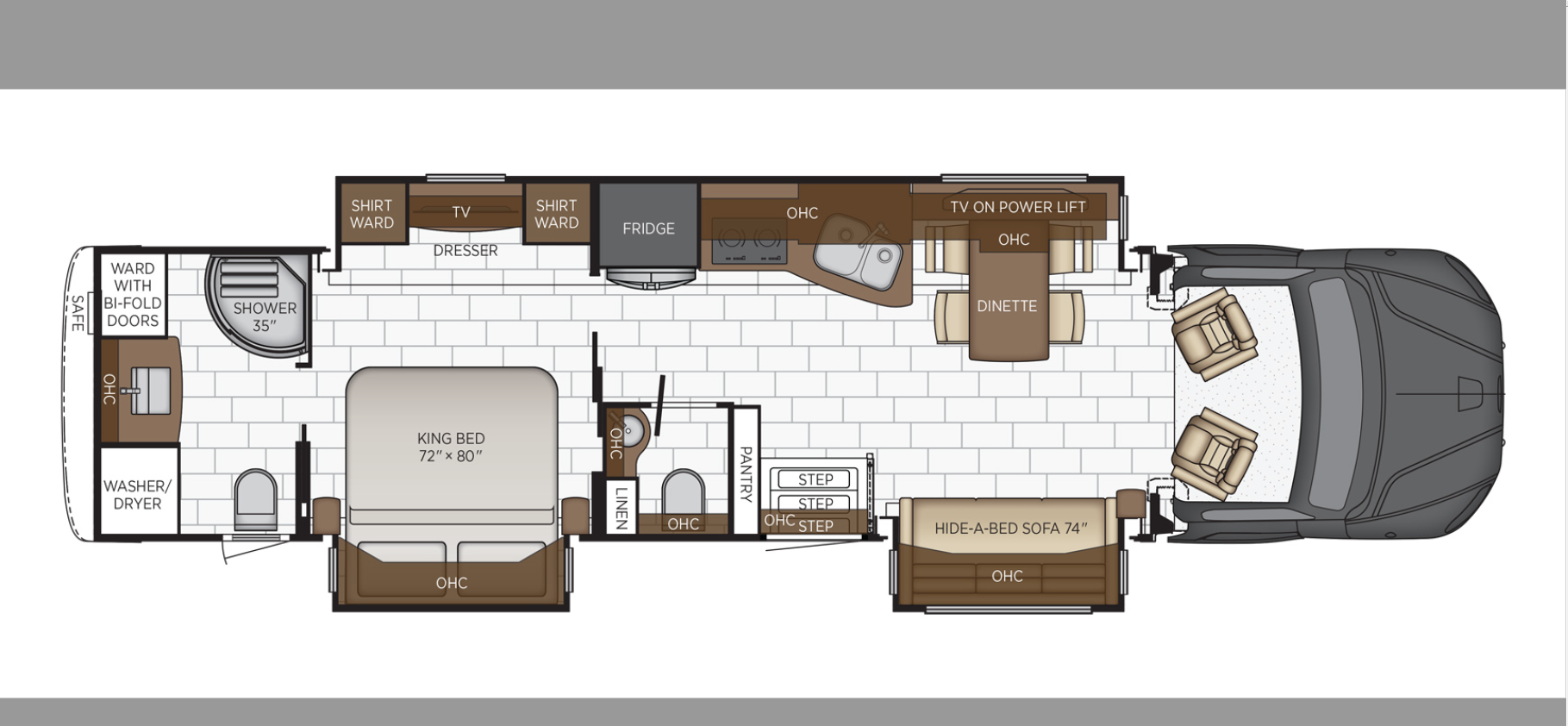 4061

4573
4575

4590

This Floor plan may show optional features that are not on every unit.
Click on one of the thumbnails below to view photos of previously sold units
Sorry, no videos at this time
Supreme Aire Specifcations

MODEL
4051
4061
4573
4575
4590
OVERALL WIDTH
101.5″
101.5″
101.5″
101.5″
101.5″
OVERALL
HEIGHT (to top of AC)
13′ 2″
13′ 2″
13′ 2″
13′ 2″
13′ 2″
OVERALL LENGTH
41′ 2″
41′ 2″
44′ 11″
44′ 11″
44′ 11″
INTERIOR HEIGHT
(Std)
83″
83″
83″
83″
83″
FUEL CAPACITY (gal)
100
100
100
100
100
FRESH WATER (gal)
150
150
150
150
150
BLACK (gal)
40
40
40
40
40
GRAY (gal)
60
60
60
60
60
Due to continued improvement, changes in suppliers and design; features, options, appliances, equipment, colors, material specifications, prices, and model availability are subject to change without notice.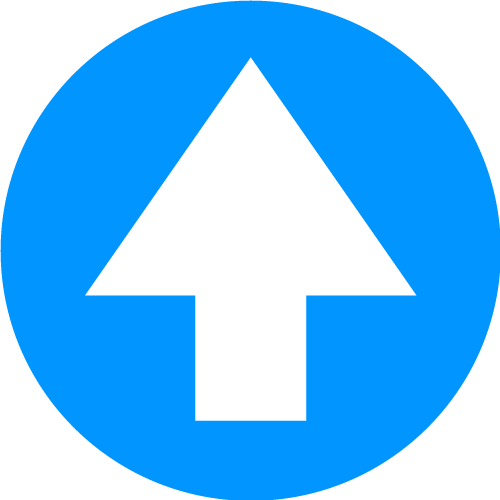 Scroll Down to See More Content