At IWS we have built a successful business selling and servicing high quality tow trucks for over 20 years. To us it has always been simple. Build the absolute best truck you can. Help your customers be successful, and stand behind that commitment! We have brought what we learned from the towing industry, to the motor coach industry.
We want to make sure that whenever you buy a motor coach from IWS that you have zero regrets. That's why we developed the IWS Signature Series™. We have been working for over 20 years with our customers to design the absolute best motor coach we can. We have worked year after year for our coaches to be on the cutting edge of safety, technology, and performance. When you buy an IWS Signature Series™ Renegade Classic you can rest assured that you made the right choice. When you are out enjoying life, or pulling hills at 70 mph you will NEVER say, "Boy I wish I had bought a cheaper motor home!"
Below you will see an example of one of our IWS Signature Series™ Renegade Classics. You will see some options labeled "IWS Signature Series™ options. These options are what we have custom ordered, or custom designed for our customers to have the best coach we could possibly build. Below is just one example of our many signature series builds. For more information on the IWS Signature Series™ please contact us.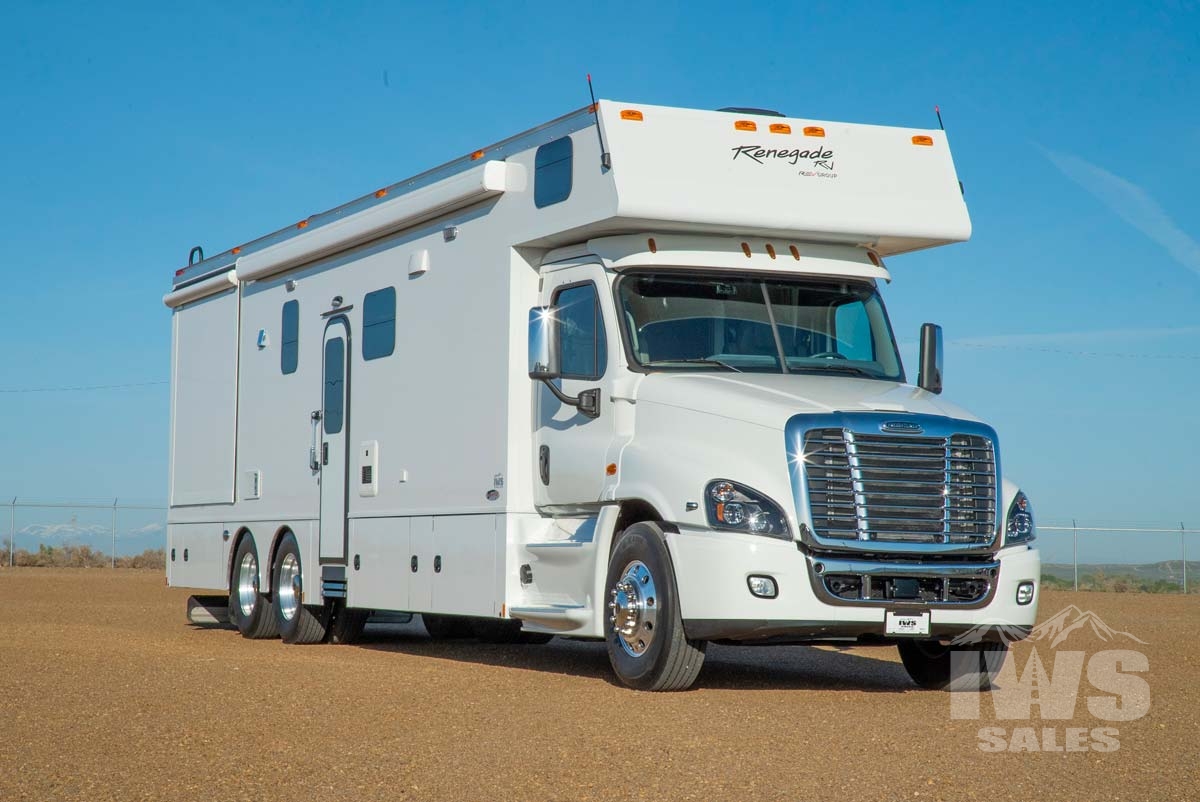 IWS Signature Series™
2021 Renegade Classic Tandem Axle Motor Coach -42'
FREIGHTLINER CASCADIA 126 WITH SAFETY ASSURANCE PACKAGE
(Note) Chassis and Motor Coach, equipment along with other vendor supplied items / specifications are subject to change without notice
Chassis Features
Detroit DD16 Diesel Engine
600 Hp @ 2080 RPM
1850 Ft Lb Torque @ 1120 RPM
3-Stage Jacobs Engine Brake
6-Speed Allison Automatic Transmission
58,000 Lbs. GVWR
80,000 Lbs GCWR
18,000 lb. Front Axle
40,000 lb Rear Axle(Tandems)
91 Rear Ratio
Driver Controlled Lock Rear Differentials
Meritor WABCO ABS with Traction Control System
ABS with Traction Control
The WABCO ABS Traction Control System will help apply the correct braking to keep you on the road
Smart Tire – Tire Pressure Wireless Monitoring System
Air Disc Brake System **(IWS Signature Series™ Option)
With air disc brakes, stopping distance is greatly decreased compared to drum brake systems
Internal automatic brake adjustment allows brakes to always be in optimum adjustment
Straight, stable stops due to minimized brake force variation across axles
Air Dryer with Heater
120 Gallon Aluminum Fuel Tank (Driver Side)
13 Gallon DEF Tank
LED Marker Lights
Heated Mirrors – Power Operated
Air Ride Seats with Dual Armrests
Premium Instrument Package
Air – Tilt- Cruse
Meritor WABCO's "OnGuard" Collision Mitigation System **(IWS Signature Series™ Option)
Forward Collision Warning, Active Braking, and Adaptive Cruise Control
Forward Collision Warningalerts the driver to possible rear-end collisions by providing audible, visual and haptic warnings
Collision Mitigation & Active brakinghelps the driver in responding to potential rear-end collision by braking when necessary
Adaptive Cruise Controlassists the driver to maintain a safe following distance between their vehicle and vehicles ahead
Stationary Object Warning provides you with added safety to alert drivers to obstructions in their lane, such as disabled vehicles
Lane Guidance System
Government conducted research suggest that collision mitigation systems reduce annual rear-end accident rates by up to 44%
OnGuard-equipped fleets have reported up to 87% rear-accident reduction as well as major reductions in fatal and injury accidents
Decreases the severity of rear-end collisions
Encourages drivers to maintain safe following distances and avoid tailgating
Incredible Powertrain Warranty Coverage Brings Peace of Mind!
Detroit DD16 5 yr/100,000 Miles – Includes Injectors, Water Pump and More!
Allison 5 yr/Unlimited Miles Warranty
Detroit Virtual Technician
Exterior Features
Keyless Entry for Front Entry Door Integrated into Lighted Grab Handle
Side Swing Baggage Doors
Power Locking Storage Compartment Doors Where Applicable with Remote **(IWS Signature Series™ Option)
L.E.D Storage Compartment Lights
Carpeted Storage Compartments
¾ Rear Pass-Through Storage Compartment **(IWS Signature Series™ Option)
4-Point Auto Leveling System with Hyd Down and Hyd Up – Includes New Bluetooth Control App
BUNK OPTIONS
Larger Bunk with Bunk Cut Out with Removable Cover – Includes Smaller Mattress**(IWS Signature Series™ Option)
Cab Over Bunk Ladder with Larger Rungs
Access Hatch Installed in Roof with 2 latches (Insulated) **(IWS Signature Series™ Option)
EXTERIOR LIGHTING
IWS Outside Lighting Package (5) High Intensity Exterior L.E.D Light Package – Each Group is Switched Independently (2) Lights Driver Side (2) Lights Passenger Side (1) Light Rear of Coach**(IWS Signature Series™ Option)
Underbody Exterior LED Accent Lights (Color Changing) **(IWS Signature Series™ Option)
L.E.D Side Docking Light (Set) Mounted by Rear Wheels on Coach Body
HITCHES and TOWING
12,000 lb Adjustable Hitch Attachment With 2″ Receiver Tube – (2,000 lb Tongue Rating) Used With 30,000 lb Hitch **(IWS Signature Series™ Option)
30,000 lb Adjustable Hitch With 2-5/16″ Ball (5,000 lb Tongue Rating)
Electric Brake Controller with Digital Display
INSULATION
IWS Extreme Weather Package. – 20 Mil Ceramic Temp Coat Insulation Ceiling, Walls and Floor (Includes XPS Blue Board R-25)  **(IWS Signature Series™ Option)
PAINT & APPEARANCE 
White Gel Coat Finish
Paint Chip Protection, Bumper, Hood Front and Fender Fronts **(IWS Signature Series™ Option)
Undercoat Entire Underside of Coach with Rubberized Coating
Mud Flaps Behind Each Dual
Full Width Mud Flap with Stainless Steel Renegade Logo
SLIDE OUTS
Larger Renegade Bed Slide Out 88″ to 90″
Upgraded IWS Wardrobe Slide Out with Custom Cabinets and Counter. 88″ to 90″ Slide Out Accommodates Larger 43″ TV **(IWS Signature Series™ Option)
Slide Outs are Included in Base Price
AWNINGS   
16′ to 18' Lateral Arm 2 Stage Awning with Lighted Lead Rail and Wind Sensor
Awning Slide Toppers on All Slide Outs
WINDOWS  
Skylight over Shower **(IWS Signature Series™ Option)
(2) Cab Over Bunk Windows 15″ x 24″ With Valances and Shades **(IWS Signature Series™ Option)
Rear Window with Valance and Shades (Non-Opening) 36″ x 24″ **(IWS Signature Series™ Option)
Optional All Wood Valances Classic Style
Tinted Side Windows on Chassis Cab **(IWS Signature Series™ Option)
Bonded Thermopane Frameless Windows
Picture Window Over Sofa Non-Opening 48″ x 24" (With Overhead Storage) **(IWS Signature Series™ Option)
Picture Window Over Dinette Non-Opening 48″ x 24″ (With Overhead Storage) **(IWS Signature Series™ Option)
Power Operated Night Roller Shades. – Manually Operated Day Roller Shades  **(IWS Signature Series™ Option)
Bathroom Window with Day Night Manual Roller Shade
Interior Features
7 Ft 6″ Interior Height (90″)
Cab Over Bunk Privacy Curtains **(IWS Signature Series™ Option)
Wood Trimmed Accents Between Conversion and Cab
Entryway Walls all Wood No Padded Walls in this Area **(IWS Signature Series™ Option)
Coat Rack Over Entrance Door
Extra Coat Hooks on Entry Way LH Wall **(IWS Signature Series™ Option)
Additional Interior Wooden Grab Handle (1) On each side of Entrance
Flat Panel Wainscoting with Smooth Vinyl Padded Walls **(IWS Signature Series™ Option)
Ceiling Fan in Living Quarters**(IWS Signature Series™ Option)
Ceiling Fan in Bedroom**(IWS Signature Series™ Option)
Full Length Mirror in Bedroom with Wood Trim
FURNITURE
FlexSteel Dream Dinette (converts to a sleeping area)
Upgraded Ultra Leather Package for FlexSteel Dinette, FlexSteel Sofa, Captain's Chairs.
FlexSteel Theatre Seating with Power Recliners in Lieu of Hide-a-Bed **(IWS Signature Series™ Option)
Heated Seat Option for Driver and Passenger Captain's Chairs
Manual Lumbar Support for Driver and Passenger Captain's Chairs **(IWS Signature Series™ Option)
Cascadia Driver and Passenger Seat Swivel Base
Mini King Bed 66″ x 80″ with Memory Foam Mattress
CABINETS
Epic – Slab Style Smooth Face Cabinet Doors **(IWS Signature Series™ Option)
Maple Hardwood Cabinets with Optional Stained Satin Finish **(IWS Signature Series™ Option)
Dove Tail Construction on All Drawers
Stacked Silverware Drawer
(2) Small Item Slide Out Drawer in Pantry **(IWS Signature Series™ Option)
(3) Large Item Slide Out Drawer in Pantry **(IWS Signature Series™ Option)
Cedar Lined Rear Closet
Hutch with Drawers, Overhead Cabinets & Solid Doors **(IWS Signature Series™ Option)
Install Mirror Between Hutch Counter and OHC **(IWS Signature Series™ Option)
FLOORING  
Honed Porcelain Tile Entire Coach (Living Quarters – Kitchen – Bathroom – Bedroom)**(IWS Signature Series™ Option)
Electric Heated Tile Flooring Entire Coach (2) Heating Zones **(IWS Signature Series™ Option)
Tiled Entry Steps / Stepwell
Living Quarters Slide Out: Carpet Under Dinette
Carpet Cab Area – Includes Removable Carpeted Floor Mats
COUNTER TOPS     
Polished Solid Surface Countertops – Similar to Corian (Bedroom, Kitchen, Bath, Dinette, and Nightstands)
Tiled Back Splash from Counter to Cabinets and Wrap Along Pantry
Solid Surface Counter Top on top of Hutch
APPLIANCES
18 cu ft. Residential French Door Premium Refrigerator Ice Maker in Lower Freezer (S.S.Finish)
1.5 Cu Ft Convection Microwave (Stainless Steel)
Outside Refrigerator Prep Package Only (Wiring Only)
2-Burner Induction Cooktop Flush Mounted **(IWS Signature Series™ Option)
Individual Washer & Dryer Stacked **(IWS Signature Series™ Option)
Water System Features
Bone Colored Macerator Toilet (Electric Flush)**(IWS Signature Series™ Option)
75 Gallon Gray Water Tank & 75 Gallon Black Water Tank
150 Gallons Fresh Water Storage Tank, Located under Rear Bed
"Spray Away" Pressurized Sprayer – Includes Coiled Hose and Sprayer **(IWS Signature Series™ Option)
Pressurized Outside Water Spigot Located in Water Management Bay
Variable Speed Water Pump
Whole House Water Filtration Filters Incoming Water Supply
Water Fill and Sewage Dump Controls in One Bay
Single Bowl Stainless Kitchen Sink in Kitchen Includes Single Lever Faucet
Stainless Steel Undermount Sink in Bathroom
Extra Drawers added to Bathroom Vanity **(IWS Signature Series™ Option)
Premium One-Piece Fiberglass Shower
Aqua Hot Heat Exchanger in Sewage Tank Compartment
(2) Heating Strips on Black Water Holding Tanks
(2) Heating Strips on Gray Holding Tanks
Ceramic Temp Coat Insulation Package in Water Management and Sewage Compartments **(IWS Signature Series™ Option)
Mechanical Features
Aqua Hot 450D Hydronic Heater with (2) Zones Continual Hot Water – Unit Includes Engine Preheat Feature **(IWS Signature Series™ Option)
Solar Panel Prep Package
Lithium Battery Package Upgrade **(IWS Signature Series™ Option)
Magnum 3,000-Watt Hybrid Inverter – Charger with Auto Gen Start Feature
Additional Magnum 3,000-Watt Hybrid Inverter – Used to Run Center AC **(IWS Signature Series™ Option)
(12.5kW) RV-QD-12500 Cummins Onan Diesel Generator – 12,500 Watt / 104 Amp
Surge Guard for Incoming Electrical Power with Digital Monitoring Panel
(3) 15,000 BTU Air Conditioners with Chill Grill & Heat Pumps
Power Retractable 50 Amp Shore Cord (36 Ft) For Coach Power
(4) Deluxe Tinted MaxxAir Roof Vents ILO Standard Vents – Allows Vent to be open when Driving **(IWS Signature Series™ Option)
Microwave Vented to Outside
Additional 110V Outlet in Kitchen Counter (2) total **(IWS Signature Series™ Option)
110V / USB Outlet Above/Beside Hutch **(IWS Signature Series™ Option)
110V Outlet Installed in Street Side Rear Compartment **(IWS Signature Series™ Option)
110V / USB Outlet in Street Side Cab Bunk
110V / USB Outlet by each Nightstand
Premium 12 Volt Multiplex Wiring ILO Rocker Switches – Includes Bluetooth Capable Control with your Smart Phone or Tablet **(IWS Signature Series™ Option)
Electrical Features
Garmin AM/FM with Bluetooth and XM Ready in Dash Stereo System. Includes GPS RV Navigation System
Back-up Camera Run Thru Garmin Stereo
Side Bullet Cameras (Turns on with Blinkers)
Sound Bar Mounted on Living Room TV – Bluetooth and Hide Away Subwoofer
360 Degree UHF/VHF Digital TV Antenna with Booster
Screen Mesh ILO Glass Inserts for all AV Cabinet Doors
Upgraded 43″ LED Smart HD TV in Living Quarters **(IWS Signature Series™ Option)
TV Mounted Over Entry Door on MorRyde TV1-0877 Swing Arm Mount **(IWS Signature Series™ Option)
43″ TV Upgrade in Bedroom **(IWS Signature Series™ Option)
19"-Fold Down Bunk TV With DVD Player Only **(IWS Signature Series™ Option)
Connect 19"-Fold Down to Digital Antenna **(IWS Signature Series™ Option)
Connect 19"-Fold Down TV to Satellite Receiver **(IWS Signature Series™ Option)
In-Wall Outside Entertainment Center 43″ TV Bluetooth Soundbar **(IWS Signature Series™ Option)
Wingard Trav'ler Direct TV SWM3 HD Stationary Satellite – (Receivers Not Included) **(IWS Signature Series™ Option)
Wingard Connect 2.0 Wi-Fi and 4G Range Extender (requires subscription)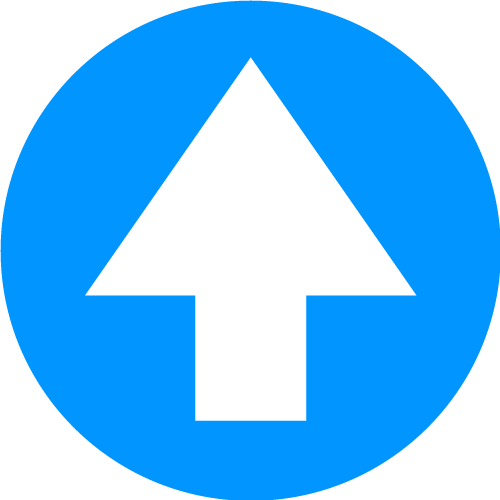 Scroll Down to See More Content